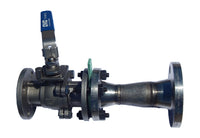 Fast, Convenient, and Accurate!
Unlike our solution, alternative style inspections screens allow particulate to drop out or pass through giving an inaccurate cleanliness representation. Full flow flange slip inspection screens capture particulate by covering the entire inner diameter of the pipe. With the built on handle our screens are easily identifiable from standard gaskets and are effortlessly inserted and removed. Typical screen changes take place in minutes.
Shop All Sizes
Shop Standard Sizes & Classes
Need Custom Screens?
Call 1-800-770-4510
We can custom build professional flange inspection screens to meet any manufacturer's mesh requirements and flange sizes.
What Our Customers Are Saying:
During an unplanned outage in a remote location flushingscreens.com was able to expedite the required flushing screens within 24 hours and on a Saturday. Allowing us to get the verifications needed to get our compressor back on line in less time than originally estimated.

Pipeline Compressor Station
Heading into our turnarounds our site process included spending several manhours cutting 100 mesh screen material and adhering between two gaskets. During one of our outages, one of the site-made screens failed and sent screen material into the system. While looking for alternatives we came across flushingscreens.com. We were pleasantly surprised with the durability of the screens and man hours saved on "time to build". Moving forward our site will continue to order through flushingscreens.com.

Fertilizer Manufacturer
Impressed with the quality of these screens. The triple gasket dual screen construction prevents blowouts. Will definitely utilize these screens moving forward.

Maintenance Manager
Great inspection screens to use when performing onboard lubrication flushing after maintenance. Same quality we see professional flush companies use during major maintenance turnarounds.

Mechanical Contractor
Solid construction. The inspection screens are a great alternative to building internally or the high-priced steel screens. Our site has bought the cleanable steel screens in the past but they always disappear, get damaged, or rust between uses. We spent as much time cleaning the old steel screens as we did using them.

Power Generation Facility
The triple gasket dual screen construction makes these inspection screens superior to others in the marketplace. Additionally, the handles with holes punched allow for simple storage and inventory on a peg board, ease of use for installation and removal, and quick optical verification that screens are installed. The handles prevent you from mistaking the inspection screens for standard Garlock gaskets that can be left installed in the system.

Petrochemical Facility
Flushingscreens.com was able to build custom mesh screens to meet the manufacturer requirements. Saved me time and money from having to buy multiple mesh screens and attempt building in-house.

Maintenance Contractor